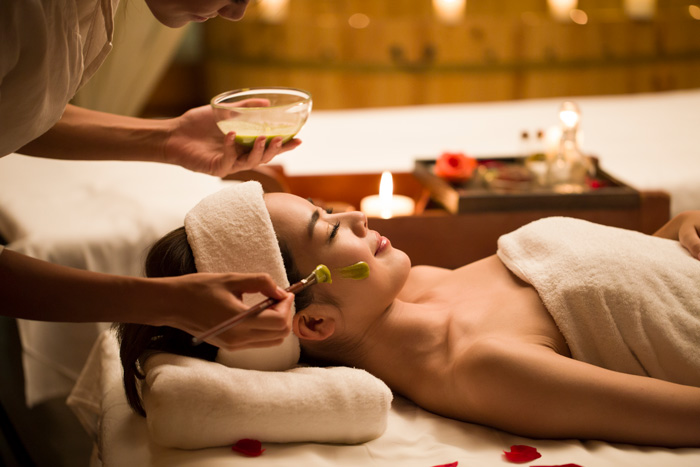 HydraFacial is a top choice for those seeking a skin refresh. It's gentle and effective, delivering noticeable results after just one session.
Dermatologists use variable pressure and specialized treatment solutions to clean out pores, remove impurities from the skin, and leave you with renewed, younger-looking skin.
This procedure also includes the extraction of blackheads and whiteheads and the application of specialty masks that tighten pores without drying out the skin.
HydraFacial – A Gentle Exfoliating Treatment
Even while they are effective, traditional exfoliating treatments can be quite rough on the skin. HydraFacial, on the other hand, employs a one-of-a-kind method that combines chemical and physical exfoliation.
By taking both of these steps, you can rest assured that your skin will not be stripped but will instead be revitalized gently.
Consequently, in contrast to previous treatments, there is no "recovery period" during which the skin will be red and sensitive.
Gentle Skin Exfoliation with HydraFacial
The HydraFacial treatment uses a one-of-a-kind combination of chemical and mechanical exfoliation, and this is its most distinguishing feature. HydraFacial takes a more delicate approach than other facial treatments, such as microdermabrasion, which can be rather abrasive, and harsh chemical peels, which can irritate the skin.
This device makes use of a patented handpiece that incorporates vortex technology. Dead cells are removed from your skin in an effortless manner while a calming cleanser is applied at the same time as the device is moved over your skin. This two-in-one action makes the skin feel both revitalized and refreshed.
Using glycolic and salicylic acid is the next step in the process. These powerful ingredients continue the process of exfoliating and cleansing the skin.
Deep Pore Cleansing Like Never Before
When did you last gaze in awe at a spotless, gleaming surface? This level of contentment for your skin is what the HydraFacial treatment delivers.
Following the preliminary exfoliation, the handpiece will begin its task of drawing impurities out of each pore using suction. It is not only a little massage; rather, it is a thorough cleansing that leaves the skin feeling as clean as it possibly can.
Benefits Beyond Imagination
Numerous pieces of research have pointed to hydradermabrasion's many positive aspects. Products used with the HydraFacial method penetrate deeper into the skin, producing superior outcomes like a thicker epidermis and a reduction in the appearance of fine wrinkles.
The treatment ends with a phase that ensures a thorough injection of peptides, antioxidants, and hyaluronic acid into your skin cells, providing them with abundant sustenance.
Customized To Your Unique Needs
The professionals offering HydraFacial treatment consider that no two people's skin is exactly alike. Professionals can enhance your experience with extra serums and boosters despite the fact that the basic treatment already packs a lot of punch.
There is a treatment called red-light therapy available for people who are struggling with sun damage or visible signs of aging. If you suffer from rosacea or acne, blue light treatment is an option that you absolutely must explore.
Experience the Best HydraFacial In Naples, FL
With glowing testimonials and scientifically backed benefits, HydraFacial is a clear choice for those seeking skin transformation. For those looking for Hydrafacial in Naples, FL, we invite you to experience the magic of HydraFacial with us. Not only will you receive top-notch treatment, but our skilled professionals will ensure a comfortable and rejuvenating experience.
FAQs
What makes HydraFacial different from other facials?
HydraFacial combines exfoliation, deep cleansing, and infusion of beneficial agents, offering a comprehensive skincare solution.
How often should I get a HydraFacial treatment?
For optimal results, it's recommended to have a session every 4-6 weeks.
Is HydraFacial suitable for sensitive skin?
Yes, its gentle approach makes it ideal for all skin types, including sensitive skin.
Can I combine HydraFacial with other treatments?
Yes, based on your skincare needs, professionals can recommend combinations for maximum benefits.
How can I book a Hydrafacial appointment in Naples, FL?
You can contact The Om Spa to book a Hydrafacial appointment in Naples, FL. It's a good idea to schedule a consultation first to discuss your skincare goals and determine if Hydrafacial is right for you.
Revitalize Your Skin at The OM Spa, Naples, FL
As skin care treatments change all the time, HydraFacial comes out as a great example of new ideas and good results.
Whether it's the gentle exfoliation or the deep cleaning of the pores, the effects are clear. You could just hear about it, but why would you when you can actually do it?
Whether you live in or visit Naples, FL, it's the perfect time to treat your face to a HydraFacial at The OM Spa.
Don't wait to give your skin the refresh it deserves. Book your HydraFacial appointment with The OM Spa in Naples, FL. Your radiant, rejuvenated skin awaits!