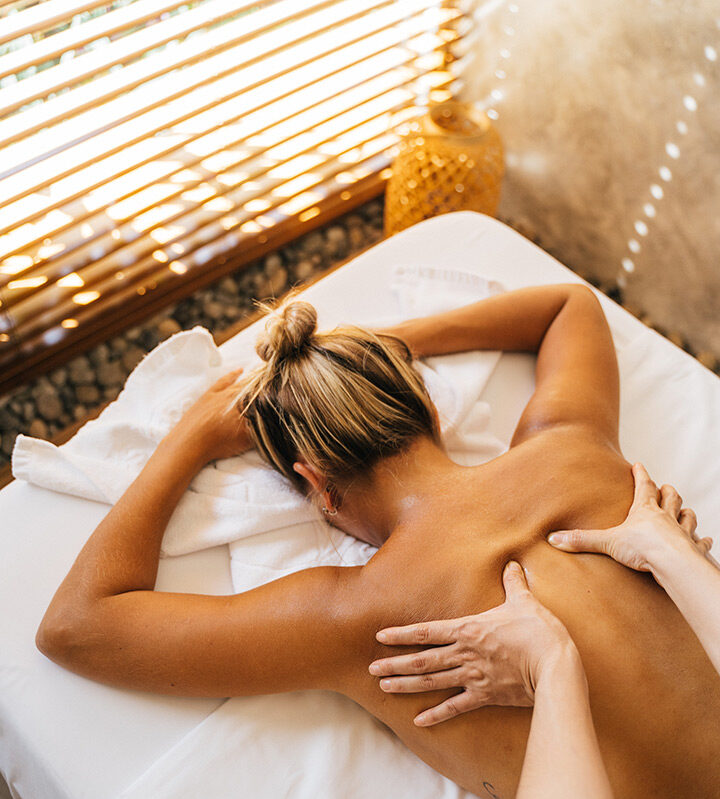 In the heart of Naples, where the sun casts a golden hue, and the gentle breeze carries
whispers of the sea, there's a touch that transcends time and offers profound healing. This
touch, known as deep tissue massage, is more than just a modern therapeutic technique; it's a
journey into the depths of our very being, unlocking the secrets of wellness that have been
known for ages.
What Is A Deep Tissue Massage?
Imagine a vast network of muscles and tissues, intricately woven, supporting and moving your
body. Now, while many massage techniques skim the surface, deep tissue massage dives
deep, targeting those inner sanctums of your muscles. It's not just about relaxation; it's about
realignment, rejuvenation, and rediscovery. When you think of deep tissue massage in Naples,
think of a therapy that focuses on the very core of your muscular woes.
Deep Tissue vs. Swedish Massage
The world of massage is vast, with each technique offering its unique touch. But two giants
stand out – deep tissue and Swedish massage. While Swedish massage dances on the surface,
offering a gentle, relaxing embrace, deep tissue massage delves deep, seeking out the hidden
tensions and knots. It's like comparing a gentle stream to a powerful river. The former soothes
and calms, while the latter reshapes and redefines. So, when you hear of deep tissue massage
in Naples, know it's a promise of profound transformation.
The Primary Purpose of Deep Tissue Massage
Why venture deep? Why not just skim the surface? The answer lies in the very nature of our
bodies. Over time, due to stress, injuries, or just the rigors of daily life, our muscles develop
knots, adhesions, and tensions that reside deep within. A superficial touch won't do. To truly
heal and release these tensions, one needs the focused, deliberate strokes of deep tissue
massage. It's a journey to the heart of the matter, addressing the root causes of discomfort and
enhancing overall mobility.
What to Anticipate in a Deep Tissue Massage Session?
Stepping into a serene setting, perhaps a spa in Naples, you're not just entering a room; you're
embarking on a journey. Before the session begins, there's a dialogue – a conversation where
you express your concerns, your pains, and your expectations. The therapist listens,
understanding your unique needs. As the session progresses, you'll feel firm pressure, slow
strokes, and a deep dive into your muscle layers. Yes, there might be moments of discomfort,
but it's a healing kind of pain, a transformative discomfort. And as the session concludes, there's
a feeling of release, of liberation, as if years of tension have just melted away.
Nine Key Benefits of Deep Tissue Massage
The transformative touch of deep tissue massage isn't just about relief; it's about revelation.
Here are nine profound benefits that stand testament to its healing prowess:
 Reduces Inflammation: At the core of many aches lies inflammation. Deep tissue
massage, with its targeted approach, addresses this root cause, offering relief and
promoting healing.
 Improves Posture: In a world of screens and desks, posture often takes a hit. This
massage technique enhances alignment, reducing discomfort and promoting a confident
stance.
 Releases Chronic Muscle Pain: Those persistent aches that never seem to fade?
Deep tissue massage dives deep, targeting the epicenters of these pains and offering
lasting relief.
 Breaks Up Scar Tissue: Past injuries often leave behind scars, not just on the skin but
deep within the muscles. This massage technique breaks down these internal scars,
promoting mobility and reducing associated discomfort.
 Increases Joint Flexibility: Mobility is freedom. Deep tissue massage enhances the
range of motion, ensuring every movement is fluid and free.
 Reduces Stress: Beyond the physical, there's the mental. This massage technique
promotes relaxation, lowering cortisol levels and ushering in a sense of calm.
 Reduces Headaches: Tensions in the head, neck, and shoulders often manifest as
persistent headaches. Deep tissue massage offers a targeted approach, addressing
these tensions and reducing headache frequency.
 Aids in Recovery Post-Injury or Surgery: The body's healing process post-injury or
surgery can be enhanced with deep tissue massage. It reduces inflammation, promotes
circulation, and accelerates the healing process.
 Boosts Circulation: At the heart of wellness lies good circulation. Deep tissue massage
enhances blood flow, ensuring every cell gets its share of nutrients and oxygen.
Determining the Frequency of Deep Tissue Massage
How often should one indulge in this transformative touch? The answer varies. For some,
especially those battling chronic pain or recovering from injuries, frequent sessions might be
beneficial. For others, it could be a monthly ritual. The key lies in listening to your body,
understanding its needs, and consulting with professionals. Especially if you're seeking a deep
tissue massage experience in Naples, it's essential to find the right rhythm for your sessions.
The OM Spa: Your Sanctuary of Healing and Transformation
As we stand at the confluence of ancient wisdom and modern science, one truth emerges – the
profound efficacy of deep tissue massage. At The OM Spa, we invite you to explore the depths
of your being and experience the transformative power of touch. Our experts promise a journey
like no other with their profound knowledge and skilled hands. A journey that transcends the
superficial, reaching the very core of your being.
So, why wait? Dive into the world of deep tissue massage. Experience the magic, the
transformation, the revelation. Book your appointment today at The OM Spa and let the ancient
art of deep tissue massage work its modern wonders on you.