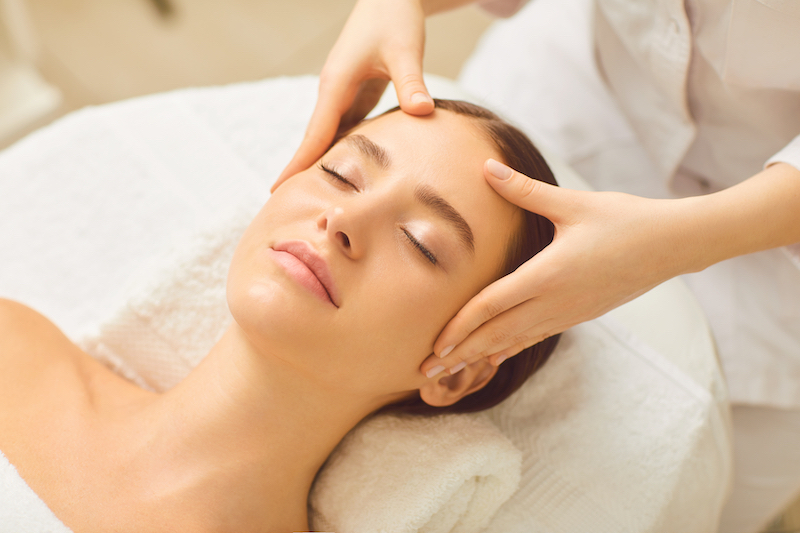 Have you ever thought about why, when massaged with soft strokes and a calming touch, most individuals fall asleep throughout the experience? In this enthralling journey of discovery, we uncover the mysteries at the heart of this phenomenon and dive into the interesting reasons why many find themselves drifting off to sleep during head massage. Join us as we embark on this illuminating journey to discover the science, the sensations, and the secrets that make head massages an appealing gateway to serenity.
This all-inclusive blog will shed light on the mysterious world of sleep-inducing head massages, whether you are a curious spirit looking for answers or someone who has personally experienced the ecstasy these massages bring.
Stimulation of Pressure Points
Did you know that your head has a lot of acupressure points? Putting light pressure on these spots and moving around in a circle can do wonders for your comfort. As the massage therapist's fingers move around the shape of your head, they will easily hit pressure points. It will set off a chain of responses in your body that help you feel more relaxed.
Moreover, it is easier to give in to the embrace of profound relaxation and sleep when endorphins, which are satisfying "feel-good" hormones, are released into the body. Moreover, the feelings of calm and contentment you get from meditation are amplified by endorphins.
Parasympathetic Nervous System
Parasympathetic nervous system engagement is the key to blissful tranquility during relaxation. It is because the parasympathetic nervous system regulates how the body reacts to stress.
The stresses of modern life can be mitigated in part by engaging this mechanism, sometimes known as the "rest and digest" mode. A head massage induces a parasympathetic response in the recipient. Setting off a cascade of physiological changes that aid in relaxation, all thanks to the light pressure applied by expert hands to the scalp.
Imagine a peaceful garden where all the flowers bloom simultaneously in perfect unison, evoking a sense of peace all around. Similarly, your body will relax when the therapist's fingers dance around your scalp during a massage. The rate at which your heart beats slows, your blood pressure drops, and the muscle tension begins to release.
You can submerge yourself in the euphoric experience of having your head massaged since the parasympathetic response is working relentlessly to bring about a state of equilibrium.
The Soothing Ambiance and Environment
A head massage is more than just being massaged by skilled hands. It is an experience that involves the whole environment and is a journey through the senses. The calming atmosphere created by this experience is meant to take you away from the worries and strains of the outside world and bring you to a place of peace. You feel calm and at ease, as you walk through the spa's doors.
Think of a room with dim lighting and warm, golden tones that invite you to relax and take it easy. The soft flickering of flavored candles lets out the light scents of the candles, making the room feel calm and peaceful. When you hear the soothing sound of water falling from a waterfall, your mind and body will calm down quickly. Every piece in this carefully put-together space works together to make a place that makes you feel good and encourages you to let go of your worries.
Individual Variations and Experiences
As an expression goes, "Different strokes for different folks," falling asleep during a head massage is a one-of-a-kind experience that differs from person to person. On the massage table, each person brings their unique sleeping habits, levels of exhaustion, and preferences regarding how they want their massage. Some people might find that the soothing feelings cause them to nod off to sleep, while others could find it more enjoyable to remain in a state of profound relaxation and cherish each moment as it passes.
Our reactions to having our heads massaged are not just influenced by variables of culture but also by our own life experiences. A deep slumber during a massage is interpreted in some societies as a sign of having reached an extreme state of relaxation and having complete faith in the abilities of the masseuse. It is a time to let go and surrender, which paves the way for the mind and body to recover and be renewed. During a head massage, appreciate your unique experiences and open yourself up to the transforming potential of this age-old practice by embracing your path.
Peaceful Retreat at The OM Spa
Many people think The OM Spa in Naples, Florida, is the most lavish and peaceful. Give yourself luxurious haircuts and massages that will take you to a place where happiness and satisfaction are the norms.
Our trained therapists' services are of the highest quality, and they add a kind, personal touch that makes sure you have a refreshing time. Get some peace while our skilled pros and cutting-edge therapies help your senses and mind feel better.
Find different spa services for men and women, like massages, facials, manicures, pedicures, Lipo-Melt for weight loss, infrared sauna, hair removal, and day spa packages. You can relax and improve your health and well-being at The OM Spa.
Final Thoughts
We believe you have gained a deeper understanding of this pleasurable sensation. The delicate artistry of expert hands will greet your entrance at The OM Spa. The harmonic fusion of Eastern and Western techniques and the calming atmosphere.
Treat yourself to the exquisite art of relaxation at The OM Spa, where time-honored rituals, forward-thinking techniques, and the calming touch of trained therapists combine to create a superior haven for your overall health and happiness. Make an appointment as soon as possible to take advantage of the limitless possibility for profound relaxation and renewal.