Relaxing Tao Mat Sessions Now Available in Naples, FL
Book Now
What Is Tao Technology?
In simple terms, Tao is a clinically-proven device that improves general blood flow in people and animals. Tao technology enhances blood flow, and within the cells it increases oxygen & nutrient delivery and waste disposal. Your body relies on healthy levels of oxygen and nutrients as well as elimination of waste in the cells. Without the increase of nutrients and release of waste, your cells cannot work efficiently, resulting in less energy and increased acidity in the body.
What Are Tao Sessions Like?
It's really simple. Sit or lie comfortably on the body mat for 30 minutes. It's a simple as that. Depending on your health issues, small applicators can be applied to the area of concern for an additional 8-20 minutes. It's so simple. Wear your normal clothing, remove your shoes and relax.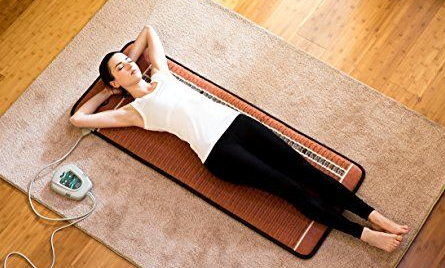 What are the Benefits Of One Single Session?
Many people experience immediate benefits from a single session — increased energy, relaxation, better sleep, and relief from discomfort. Regular users can see even more dramatic results with two 8-minute body mat sessions per day.
Benefits Of Regular Sessions
Many people experience some level of compromised blood flow which may be caused by a variety of issues, ranging from exposure to toxins, a sedentary lifestyle, poor nutrition, aging and inflammation. The simple action of using Tao technology for 30 minutes on a regular basis may create a very profound impact on the body, including:
Increased oxygenation and nutrients to your cells
Enhanced disposal of cellular waste and toxins
The More Efficiently Your Blood Flows, The More Efficiently Your Body Works!
Over time you may experience:
Improved self-healing capacity of the body
Improved cardiac function
Increased physical fitness and endurance
Increased strength and energy
Improved concentration and mental acuity
Reduction of stress
Improved relaxation and better quality of sleep
And so much more…
How Can I Experience A Tao Session?
The Om Spa proudly offers Tao sessions at the spa at 6318 Trail Blvd, Naples, FL 34108. (Collier County)
Your first session is free! Just give us a call to schedule your free session
We are currently running a special: Unlimited sessions for 4 weeks for only $200. Call today to set up your first appointment 239-631-5895
Book Now
30 minutes – $30.00
60 minutes – $60.00
Package of 5 sessions (30 minutes) – $125.00
Package of 5 sessions (60 minutes) – $250.00
Package of 10 sessions (30 minutes) – $225.00
Package of 10 sessions (60 minutes) – $450.00